Complete Home Renovations in Calgary Expected to Dominate in 2023
As the new year of 2023 continues to pass, many homeowners are looking to update their homes with the latest design trends and innovations. With remote work continuing to remain popular around the world, people have been spending more time at home as a result, which has resulted in a renewed interest in home renovation. Complete home renovations in Calgary are expected to soar in popularity in 2023 as homeowners continue to look for ways to improve their homes' comfort, functionality, and aesthetics. 
Find out the top renovation trends expected to dominate in 2023 that will enhance your home in both appearance and value.
Home Offices
One of the most significant changes brought on by the pandemic in 2020, and continues to remain a fixture in the workforce for many, is the rise of remote work. As more people work from home, the demand for home offices has increased dramatically. In 2023, homeowners will continue to prioritize home offices in their renovation projects. Whether it's a designated room or a small nook, homeowners will be looking for ways to create a functional and comfortable workspace. Popular home office features include ergonomic furniture, adequate lighting, and noise-reducing insulation.
Outdoor Living Spaces
With many people still wary of indoor gatherings and the spread of potential flu and infection, outdoor living spaces have become more important than ever before. Homeowners are looking to create outdoor spaces that are an extension of their homes, such as covered patios, outdoor kitchens, and fire pits. In 2023, expect to see more renovations that focus on maximizing outdoor living spaces. Features such as outdoor heaters, lighting, and comfortable seating will be popular additions.
Smart Home Technology
Smart home technology has been steadily increasing in popularity over the past few years, and 2023 will be no exception. Homeowners are looking for ways to make their homes more efficient and convenient, and smart home technology is the perfect solution. From automated lighting and thermostats to voice-activated assistants and security systems, smart home technology is expected to dominate in 2023 renovations. Not only does it make life more comfortable, but it also increases the value of the home.
Eco-Friendly Upgrades
As awareness of climate change and environmental issues continues to grow, more homeowners are looking to make eco-friendly upgrades to their homes. In 2023, expect to see a surge in renovations that focus on reducing energy consumption and waste. Features such as solar panels, energy-efficient windows, and smart thermostats will be popular additions. Additionally, homeowners will be looking for ways to incorporate sustainable materials into their renovations, such as bamboo flooring and recycled glass countertops.
Luxury Bathrooms
Bathrooms are no longer just functional spaces; they have become a place for relaxation and self-care. In 2023, homeowners will be looking to create luxurious bathroom spaces that are both functional and aesthetically pleasing. Features such as heated floors, freestanding tubs, and spa-like showers will be popular additions. Additionally, homeowners will be looking to incorporate natural materials such as marble and stone into their bathroom renovations.
Open Concept Living
Open-concept living has been a popular trend for several years now, and it shows no signs of slowing down. Homeowners are looking to create spaces that are more conducive to socializing and entertaining, and an open-concept floor plan is the perfect solution. In 2023, expect to see more renovations that focus on creating open-concept living spaces. Features such as large windows, high ceilings, and minimalistic design will be popular additions.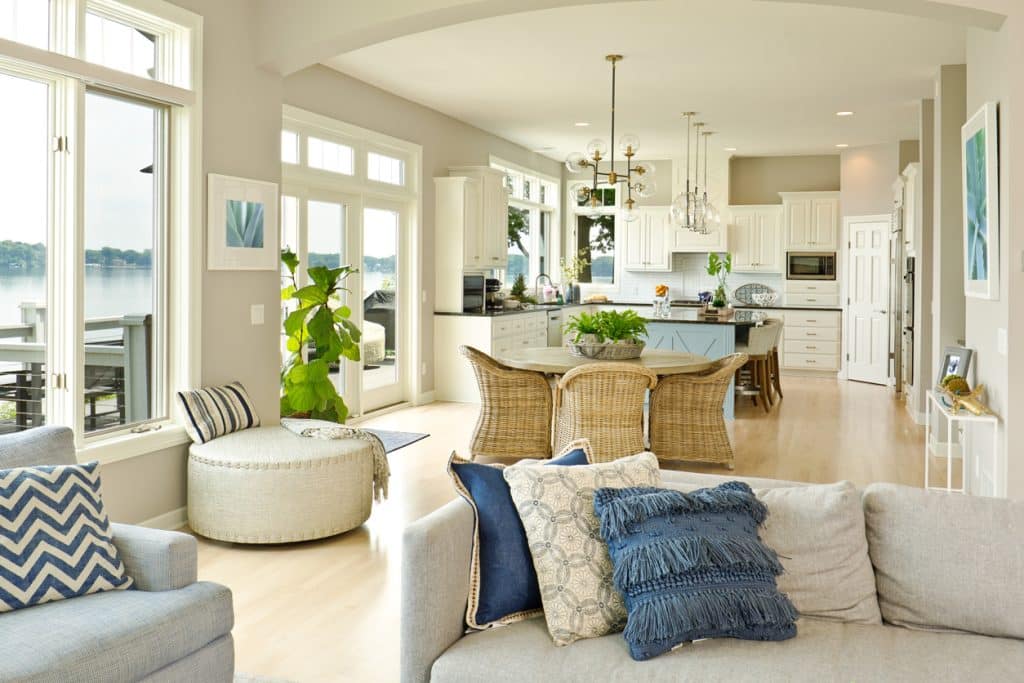 Conclusion
2023 is set to be a year of exciting home renovation trends. From home offices to luxury bathrooms, and outdoor living spaces to smart home technology, homeowners will have plenty of options to choose from when pursuing complete home renovations in Calgary. Whether you're looking to create a more functional workspace or a luxurious bathroom, there's a renovation trend for everyone.
Mastered Home Renovation is your source for complete home renovations. Whether you are looking for custom home renovations or luxury home renovations, our goal is always to increase your dwelling's overall quality and value. As honest, hardworking and seasoned professional contractors, we exceed our client's expectations by utilizing the latest tools, techniques and technology, alongside high-quality materials. We execute big and small projects for every room, including bathroom renovations, basement development, bedrooms and kitchen renovations in Calgary. Experience master quality by contacting our Calgary renovators at (403) 700-7444 today!