Home renovations make a great Christmas gift to yourself. This is the time of year people are used to spending money, and you may even be able to get some good holiday rates. However, if you do plan your renovations around the holidays, it can make celebrating your Christmas a little difficult. Nonetheless, it is possible to prepare your home for Christmas even if you are remodelling. 
4 Tips To Manage Home Renovations During Christmas 
Be Realistic About Your Home Renovations
If you are getting some custom home renovations in Calgary over the holiday season, then start your Christmas planning by being realistic. The fact is that you need to accept your limitations for Christmas this year. For example, if your kitchen is being worked on, then do not expect to prepare an elaborate meal at home. Make alternative plans instead. By acknowledging that things are different right now, you can plan accordingly. You will have plenty of time to make needed adjustments.
Be Flexible During Custom Home Renovations in Calgary
You are going to have to be flexible for your home renovations over the holidays. With so much going on in your home, there is a good chance you will not be able to put up all your decorations during custom home renovations in Calgary. Do not let yourself be too disappointed about that fact. Instead, put up what you can in appropriate areas of the house. Consider moving things around to new spots this year. A little flexibility will make it easier to celebrate.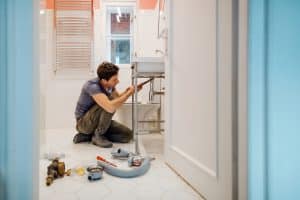 Do Not Be Afraid of New Holiday Traditions 
Most people rely on established family traditions to celebrate over the holidays. This can be hard when your home is in disarray. However, you can use your renovations as an opportunity to explore new ideas this holiday season. Instead of always sharing Christmas dinner in the kitchen, maybe spend your holiday meal in the basement around your fireplace. If you cannot hang the stockings on the fireplace, then look for a neat series of hooks for the wall instead. These new traditions might even endure beyond your renovations.
Embrace the True Spirit of Christmas
Ultimately, your home renovation should remind you of the true spirit of Christmas. Even if you cannot do all the things you normally do, your Christmas can still be meaningful when spent with people you love. Christmas in the modern era has become very commercialized, which can detract from the sense of love and belonging that defines the season. By scaling back your decorating and celebration, you can take this opportunity to remind yourself what Christmas is really all about.
At Mastered Home Renovations, attention to detail is our specialty. Your home renovation is sure to meet all of your functional and stylistic needs. It is our mission to turn your dream home into a reality. Contact us for a quote to get started.