When you start your bathroom renovations, it is natural to feel joy and excitement. After all, you've spent all of this time planning and reviewed those plans with the renovation contractor who will be assisting you. The material is selected, and you are ready to see the results of all of your hard work start to pay off.
However, sometimes bathroom renovations don't actually proceed according to your plan. In fact, it is an uncomfortably common occurrence that they go off track. Sometimes the material is delayed from the supplier, or the dimensions incorrectly measured during the planning phase. In other cases, the first company you go to agrees to do the work, but then they have to cancel because they have unexpected occurrences that will delay them for too long.
Although, none of this means that your bathroom renovations will fail. Instead, it merely means that you will have to adapt to the changes and make the most out of your situation. Check out these tips for some ways to adapt appropriately and properly in your renovations planning.
Tips for Adapting Your Bathroom Renovations
Clear Communication
Communication is at the beginning of your tips because it will smooth over almost any problem. Clear communication is essential between your renovation contractor and yourself. Make sure that they are on the same page as you, and that you can both ensure a clear understanding of the project.
This simple step will save you lots of time and spare you from the regular headaches of readjustment. If there is a delay and you are notified promptly, it is easy to compensate or redirect the plan. If you need access to a space that is under construction, communicating your needs will save you and the renovation contractor valuable time.
Secondary Plans
During your planning phase, you are likely to come up against decisions where both options seem acceptable. Rather than making a difficult choice about which one will make the cut, instead put them both on your plan. This way, if materials are not available or the piece is out of stock, you can simply refer to your second choice and proceed without interruption.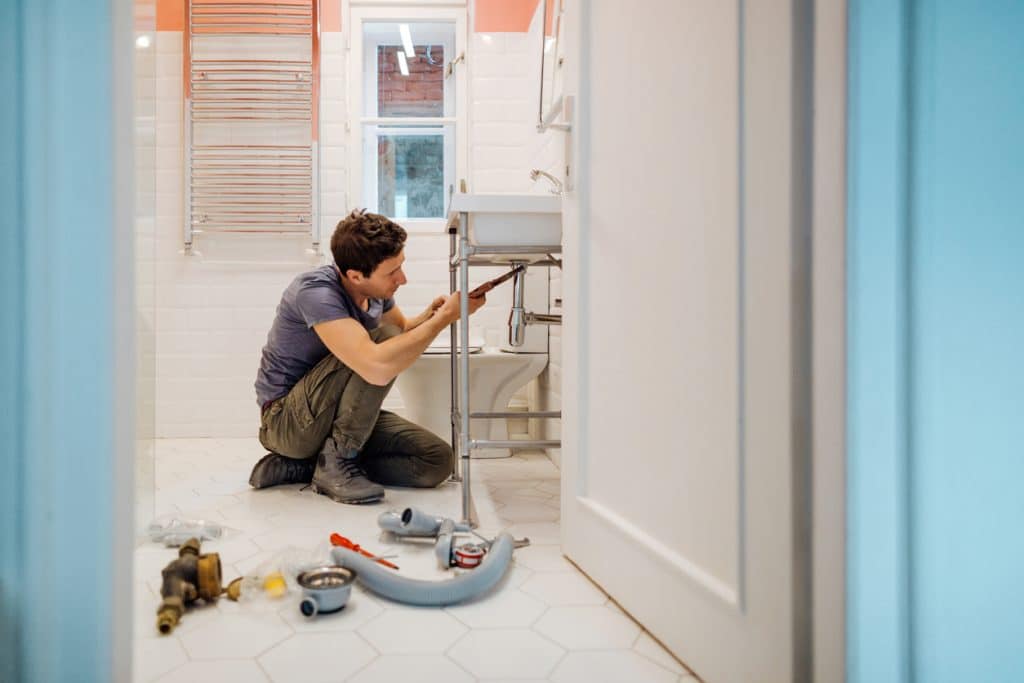 Remember, planning involves not only the ideal situation but also effective risk management. When conjoined with clear communication, there is very little that proper planning can't prepare you for during your bathroom renovations.
Keep Calm
Of course, keeping calm can be difficult when you are watching your project experience hiccups or issues. However, that doesn't necessarily mean that your response has to reflect your internal feelings. When anyone gets upset or angry, it makes clear communication and effective planning difficult. Perhaps, you feel as though you have been wronged and you should seek retribution. Or, maybe you think you are entitled to a better situation than the one you are receiving.
However, it is important that you remember that everyone is in this project together. As much as you want to get your bathroom renovations completed, your renovation contractor wants to ensure you get a quality job that is done right the first time. Working together and keeping a level-head will help this process flow smoothly, and you will not have to compromise your relationship to make it possible.
Find the Right Bathroom Renovation Contractor
Of course, these tips are relatively reliant on your relationship with your chosen renovation contractor. Therefore, finding the right company can make a huge difference in the way your project flows to completion.
Find a company that you can trust, with friendly and knowledgeable staff, to get the most out of your bathroom renovations in Calgary.
At Mastered Home Renovations, attention to detail is our specialty. Your home renovation is sure to meet all of your functional and stylistic needs. It is our mission to turn your dream home into a reality. Contact us for a quote to get started.